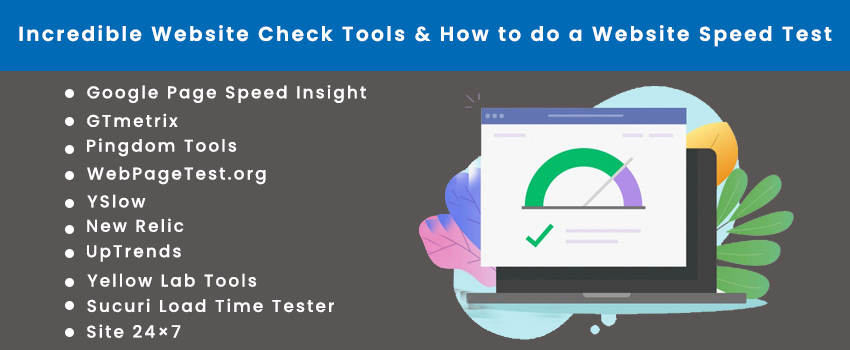 Incredible Website Check Tools & How to do a Website Speed Test
Are you facing trouble retaining your traffic on the website? Experiencing too many bounce rates? The reason might be your website slowing down while the user wants to visit.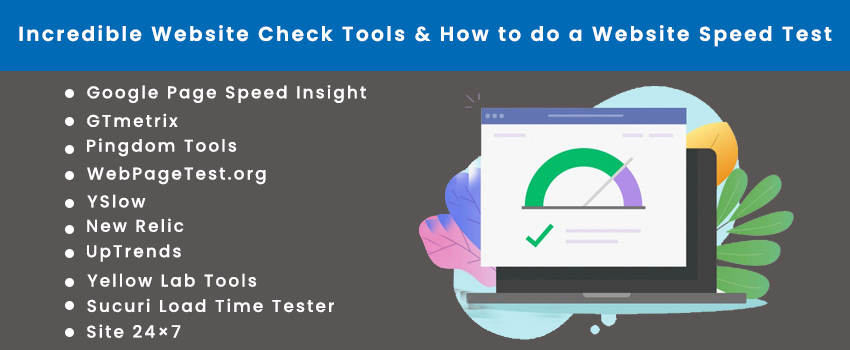 Even when you have the best of the content and the website's images, you can lose your user or visitor if your website does not open in time. Thus, you need to keep a check and monitor the website from time to time and ensure that it keeps it up and running.
Besides your users, you will also lose your rank on the search engine results page.
Here are some of the incredible website check tools & how to do website speed tests.
Google Page Speed Insight
This tool helps in marketing your website based on specific parameters. You can check both your desktop and mobile versions, speed tests and performance. Remember, you have to check the mobile version scoring- it is important because more and more people are on mobile nowadays.
GTmetrix
GTMetrix is another platform for checking your website speed. It is getting more popular among the people in the WordPress community. The reason is that it gives you a detailed analysis of the page. Get an insight into the details and learn where the problem lies.
Pingdom Tools
You can now choose to test your servers from different locations. Pingdom allows you to check website speed from about seven different locations. You can see the percentile of the website in terms of speed and performance compared to other websites.
WebPageTest.org
Evaluate your speed with the help of Webpage Text. Org and bring the necessary changes. You can also run ICMP traceroute on your website. You can get gradings just like GTmetrix and Pingdom but in a different format.
YSlow
Developed by the giant Yahoo, this Yslow helps determine the website's speed based on 23 factors' parameters with the extension download.
New Relic
APM managing software or tool that helps in determining the speed of the website. This tool monitors the performance of the website.
UpTrends
Like Google page insights, you can check both the desktop and the mobile version of the website for speed and performance.
Yellow Lab Tools
Free to use and with options to develop a customized testing platform for your website, Yellow Lab Tools gives you a look into the website.
Sucuri Load Time Tester
One of the famous security plugins by WordPress, Sucuri, gives a detailed insight into its performance and speed.
Site 24×7
This offers you a report that is easy to understand and interpret. Get the display of load time status, the number of requests, page size, and page speed score.
Are you looking for a service provider that offers you a speed test and optimizes the website accordingly to ensure that your business reaches your customers? Reach out to the MediaLabz. They are one of the best in the Website Speed Test in Calgary.