We Design engaging iOS & Android Mobile Apps
These days, it is all about having an amazing mobile app. More local businesses now realize the power of an app. A mobile application has the ability to take your business to new heights. Having your own business app has become more of a necessity.
At MediaLabz, we have a team of experienced mobile app developers in Calgary ready to help you embark on the mobile app journey. Be it an Android or iOS app, our app developers deliver a solution that will directly connect you to your customers.
Let's Turn your Idea into a Working Application. Enjoy Interactive Engagement With Your Customers.
An Awesome Mobile App can
Crafting Cutting Edge App Ideas into Reality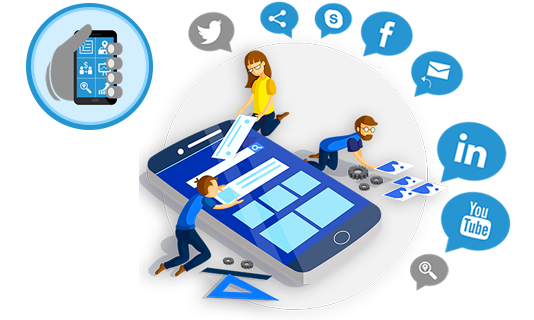 At Media Labs, our mobile app developers have a knack for delivering innovative and best in class mobile apps. We utilize the latest trends and techniques to take care of all your mobile needs.
We will develop mind blowing apps that will reach the maximum number of potential clients in the minimal possible time. Our talented coders ensure that the app performs the best across all devices to give you a competitive edge.
iPhone Development Services
With the inception of iPhone apps, mobile phones have gained impeccable functionality and power. Our iOS app developers in Calgary create innovative and feature-rich apps for iPad/iPhone. With our technical know-how, we can say, we are proficient at developing apps for a wide range of businesses. Rest easy, our apps are comprehensive and robust.
Android Development Services
At MediaLabz, our talented Android app developers create high quality Android apps for businesses across Calgary. With our proven expertise, we will add value to your mobile operations and help your business flourish. There is no denying the fact that Android is the most widely used platform. Thus, it is the best way to reach your potential customers. We always strive to enrich the experience of the end user.
With a team of creative designers and talented developers you can always expect the right business solutions. If you have an innovative app idea, come to us, we will bring that to the market. We can even tailor our solutions to meet your unique business needs.
Have An Idea for a Mobile App?
Our Mobile App Developers will bring it to life.