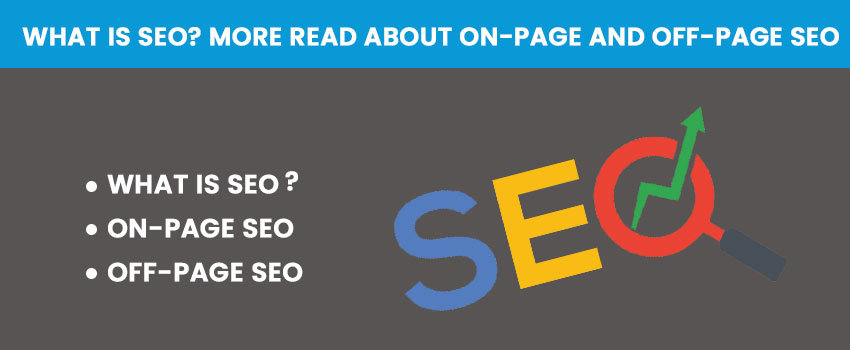 What is SEO? More Read About On-Page and Off-Page SEO
You've heard about SEO a lot but not sure exactly what it is about? Well, here you will learn all about the SEO and its different types- On-Page and Off-Page.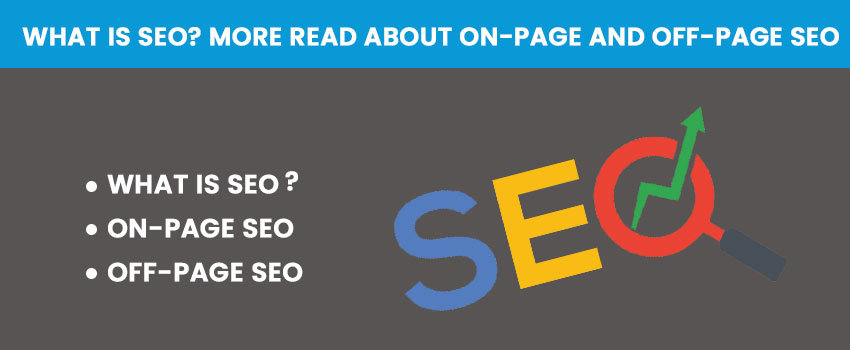 Search Engine Optimization (SEO) is and will always be around as far as the internet is around! Every website requires to have an SEO. It helps businesses, brands, and various organizations to reach out to a great variety of audiences from all corners of the world. Moreover, good SEO brings more traffic to websites, spread awareness and knowledge, and enhances the organization's growth or business.
However, as we and the Internet have evolved, SEO has changed a lot. Initially, it was only about playing with keywords and content and filling the web pages with different backlinks to increase your domain's authority. With time, SEO has become too technical and sophisticated- it can now study the visitor's behaviour and target accordingly.
Today's SEO includes On-page and Off-page SEO that improves the website performance and hence makes it user-friendly. But what are On-Page and Off-Page SEO? How do they serve marketers? How do they help a website or a business to grow? Let us start with what SEO is and then understand its types.
What is SEO?
Search Engine Optimization (SEO) is a way to raise the quantity and quality of website traffic with some organic approaches. That means playing with the content, images, and minute little things on the website. It helps in ranking higher on a search engine result page. SEO aids in driving more and good quality of traffic that the business does not have to pay for! SEO is useful for any search engine results pages- whether Bing, Google, Yahoo, or whatever. It includes- On-Page and Off-Page. Let us learn more about it.
On-Page SEO
To attract more new customers and visitors to your page, it is essential to rank higher on the Search Engine Results Page (SERPs). This On_page SEO uses both the things- Content and other technical elements that can improve and enhance the quality of the page. Thus, it is evident that the better you have an On-Page SEO, the better its traffic and, therefore, more sales.
The technical attributes that are included under on-Page SEO are-
Title tags, URL Structure, Site Speed, Internal Links, Headings, Meta Descriptions, Meta Titles, Responsiveness, and Alt Texts for Images.
Finally, another thing that helps in improving the SEO page is keywords. Keywords hold the entire SEO strategy in one place and help the visitors to reach your website at the right time. The keywords selected must be thoroughly researched and effectively used on the entire website.
Off-Page SEO
Besides playing with the keywords, content, images, and other technical elements on the websites, one also needs to care about the backlinks. The digital marketer must need to buy or trade some backlinks to enhance the website rank. Relevant backlinks on a website must improve the domain authority and make the crawlers trust the website simultaneously. For example, writing guest blogs, including influencer blogs, taking advantage of infographics, etc.- are a part of Off-Page SEO.
Other Off-Page elements are by participating in Quora and answering the questions and asking questions, engaging with the people- writers and readers there. Include another bunch of things like- Yelp reviews, Yellow Pages, Google My Business, and other listings that could benefit your brand or business.
Conclusion
Thus, we learn that search engine optimization is vital in having a website and improving your business's sales and revenue. You can understand the consumers' behaviour and hence target them accordingly. The best SEO practise includes the best in working with On-Page and Off-Page.
If you are looking for a professional to do SEO for you, you shall contact MediaLabz. They are regarded as top SEO Calgary and the best in Off-Page Calgary in their area.