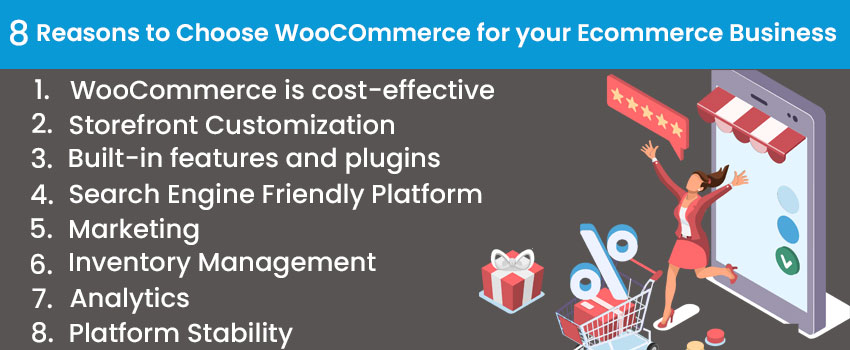 8 Reasons to Choose WooCOmmerce for your Ecommerce Business
With a large number of businesses going online and most of them are only online it is quite hard to choose a perfect online store for your business. E-commerce is a big thing in online shopping. With a high number of e-commerce platforms being launched, there are always doubts while choosing the ideal one for the online store.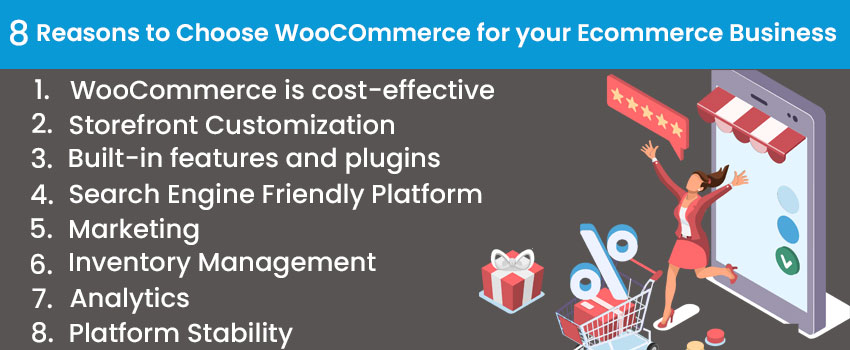 Why go with WooCommerce for your E-Commerce Business
WooCommerce provides the online business with many features and most of the features on it are free. They also provide their premium plugins and extensions with their paid version. It is also a widely used E-Commerce platform by the online businesses and roughly it powers more up to 30% of the total online stores.
There are still doubts that need to be cleared and its business so there has to be a reason why to choose WooCommerce for your eCommerce Business Calgary. So, here you have 8 solid reasons on why to choose WooCommerce for your business and WooCommerce Development Calgary can help you with the things that are needed with it.
WooCommerce is cost-effective: Price is something most of the businesses look for. Though few important features are free on WooCommerce compared to its competitor. This is very economical and provides a high-quality service.
Storefront Customization: when a person visits your website the storefront plays a part in the mind of your potential customer which leads to him actually buying the product or just leaving in the middle abruptly. With Storefront Customisation's control given to you, you can make it however you want with WooCommerce Developers Calgary.
Built-in features and plugins: The plugins and the features WooCommerce provides are very advanced. It helps in the overall development of the online store helping in creating, running and optimizing the business online.
Search Engine Friendly Platform: Search Engine Optimization or SEO is very important in attracting the customers to the website or towards the online store. The online store gets more sales only if it has more traffic towards it. WooCommerce is Search engine friendly so getting a good rank at the SEO can help in making your online store a success.
Marketing: Marketing is the key to any business unless you have a monopoly on it. Though if you have a monopoly you will have to market it to get more customers. WooCommerce allows you to run various promotions and that way you can market your online store to attract and get more potential customers. You can run campaigns on your online store and even add discounts, etc.to promote your store, product, etc.
Inventory Management: There is something unique in the WooCommerce that makes it different from most of the others. The inventory management system is unique and quite popular amongst the online stores. It allows some advanced features and also allows you to notify automatically for running low on stock, etc.
Analytics: The eCommerce analytics of Woocommerce is one of the best. Though eCommerce analytics is a very essential tool it is powerful to give you in-depth analysis of your store. And its effectiveness can be easily seen in the interface that helps in growing the business. And it is available at both in the free version and also in the paid version.
Platform Stability: Over the years it has become the choice of the online store to choose WooCommerce to provide stability for their online store platform. Even though it provides many advanced features the stability of the platform will be maintained and if at all any problem the customer support is excellent and is open 24/7.
Well, there might be many which might provide good service for a particular type of business or an online store but WooCommerce is the one that can change your mind and maybe the best platform for your business and it is widely used by many online stores.