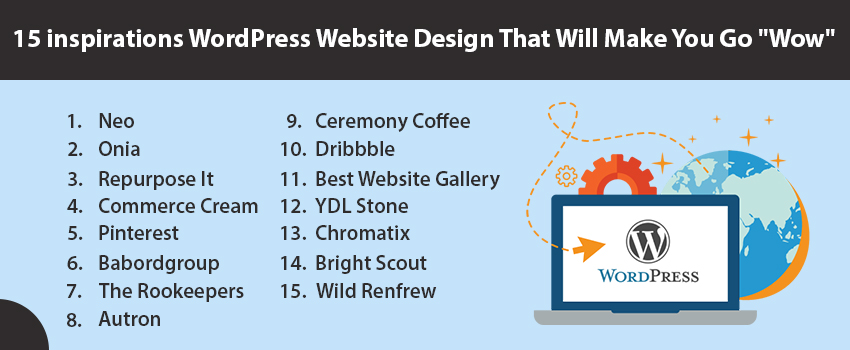 15 inspirations WordPress Website Design That Will Make You Go "Wow"
The first impression is the last impression. This saying is true for your website designs as well. The visual appeal of your website is the first thing that forms the views of people visiting you. A high conversion and engagement ratio depends greatly on the design inspiration. MediaLabz has prepared a list of various inspirations for WordPress web design. Following is a list of 15 design inspirations that will make you go "WOW".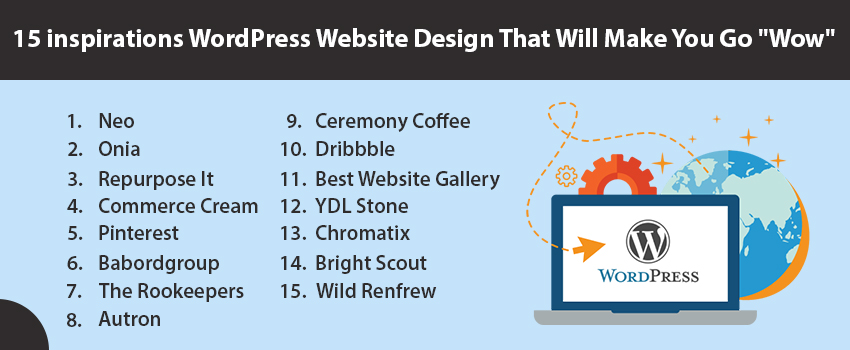 1. Neo
Entice your visitors with full-page dynamic animation. Design your front page with impressive animations with the help of Neo. The website will become a visual treat this way and you will definitely have better engagement on your website.
2. Onia
Evade professional stereotypes with the help of Onia. Craft the basic idea of your business or service in a way that people are attracted to it. Storybook illustration style helps to coax visitors into clients.
3. Repurpose It
Incorporate the Parallax effect in your website design to bring your title and other elements to life. With Repurpose It converts even the dullest and disinteresting ideas into awesome interpretations. The parallax effect is one of the most used techniques of website designing.
4. Commerce Cream
Commerce Cream is a great resource that provides a wide variety of design styles including original, bold, modern, and minimal designs for e-commerce websites. The agencies behind the designs are also shown, and all websites displayed are backed by quality design agencies.
5. Pinterest
Pinterest is one of the largest platforms for the collection of ideas of every sort. Pin different ideas about website designs on your board and take benefit from the collection of other people. Not only can you get design ideas but the inspiration to create new designs of your own.
6. Babordgroup
Babord Group allows you to put high-end cinematic videography on your website. The videos are not anything like stock videos, but they are a whole new league. Directed and shot with great skill and dedication, these videos are sure to hold the eyes of all those who visit your website.
7. The Rookeepers
There is a saying that the internet was made to share cat videos. The Rookeepers are indeed the place to go if you need animals to make your website more attractive and charming. Add a few more elements from nature like leaves and trees and see the magic they do.
8. Autron
Tap into the wonderful world of Virtual Reality with Autron. Utilize the modern cutting edge technology of VR to give your visitors and clients an experience they will never get enough of.
9. Ceremony Coffee
Say more with less hustle using Ceremony coffee. A laid back approach like sipping your coffee in comfort is the USP of this platform. Let your website be easy on the eyes of people. This comfort and minimalism are sure to bring people back for more.
10. Dribbble
Dribbble is a community of designers who share, grow their skills, and find design work in a single place. It has a vast collection of ideas and inspirations for website designing. It is the place to go if you are looking for inspiration outside of just web design.
11. Best Website Gallery
Best Website Gallery is a highly curated gallery of wonderful website design inspirations from just one person. BWG uses a tagging system to quickly find sites based on their style, design approach, functionality, etc. It is especially good for Portfolio websites, Agency websites, and Color Inspiration.
12. YDL Stone
Go bold with YDL Stone. If you deal with stones and marbles or artifacts that need to leave an impact, YDL Stone is the choice for you. The dynamic contrast, bold typography, and professional photoshoot are really impressive for your website.
13. Chromatix
Beautiful time-lapse videos and animations wait for you at Chromatix. Enjoy the visual appeal of blooming flowers and changing clouds. This is definitely going to keep visitors a lot longer on your website then they came for.
14. Bright Scout
A picture speaks a thousand words. Illustrations do more than that. Use Bright Scout to design your website using illustrations that save you the tension of too much text. A futuristic header and engaging content are what will keep your visitors interested in your website.
15. Wild Renfrew
Wild Renfrew is the perfect choice for exploring texture and patterns. Make your website impressive by giving it depth. From rough texture to soft strokes, have everything you need with Wild Renfrew to give a tang of wilderness to your website.
Wrapping Up
WordPress website is in trend for your business promotion. With various unique features, you can grow your business by heaps and bounds. Follow the above mentioned ideas to get wonderful responses through your website.